Omnibus

– Omnibus
(1970) + unreleased acetates, demos, writings and obscurities
A genuine psychedelic masterpiece that has since sunk into the unknown abyss of forgotten gems …
The self-titled Omnibus record I originally ripped awhile ago, but after getting in touch with Jay Polt, guitarist of the band, we've become good friends and Jay has sent me all of his Omnibus material for ripping / scans. He's also put me in contact with Al, Jerry, and Don, who have been very helpful in compiling this collection. And, this record will be officially re-released on the Wah-Wah Records label as a 2LP + 45RPM set later this year! These are the masters for that set. This is a big set, lots of stuff here. You probably don't want to download it all since it's on the order of 20GB, so browse before you snatch the whole link. I will be posting Bob Wegrzyn's solo album "Wenchin" later plus more demos and post-Omnibus material kindly transferred from the 1/4″ reels by a friend (stay tuned!).
If you can, like the group's Facebook page: https://www.facebook.com/theomnibusband/
Check them out on YouTube: https://www.youtube.com/channel/UC-g6859CsgDCAd47qW4XXHw
Or find/support them on BandCamp: https://omnibusband.bandcamp.com/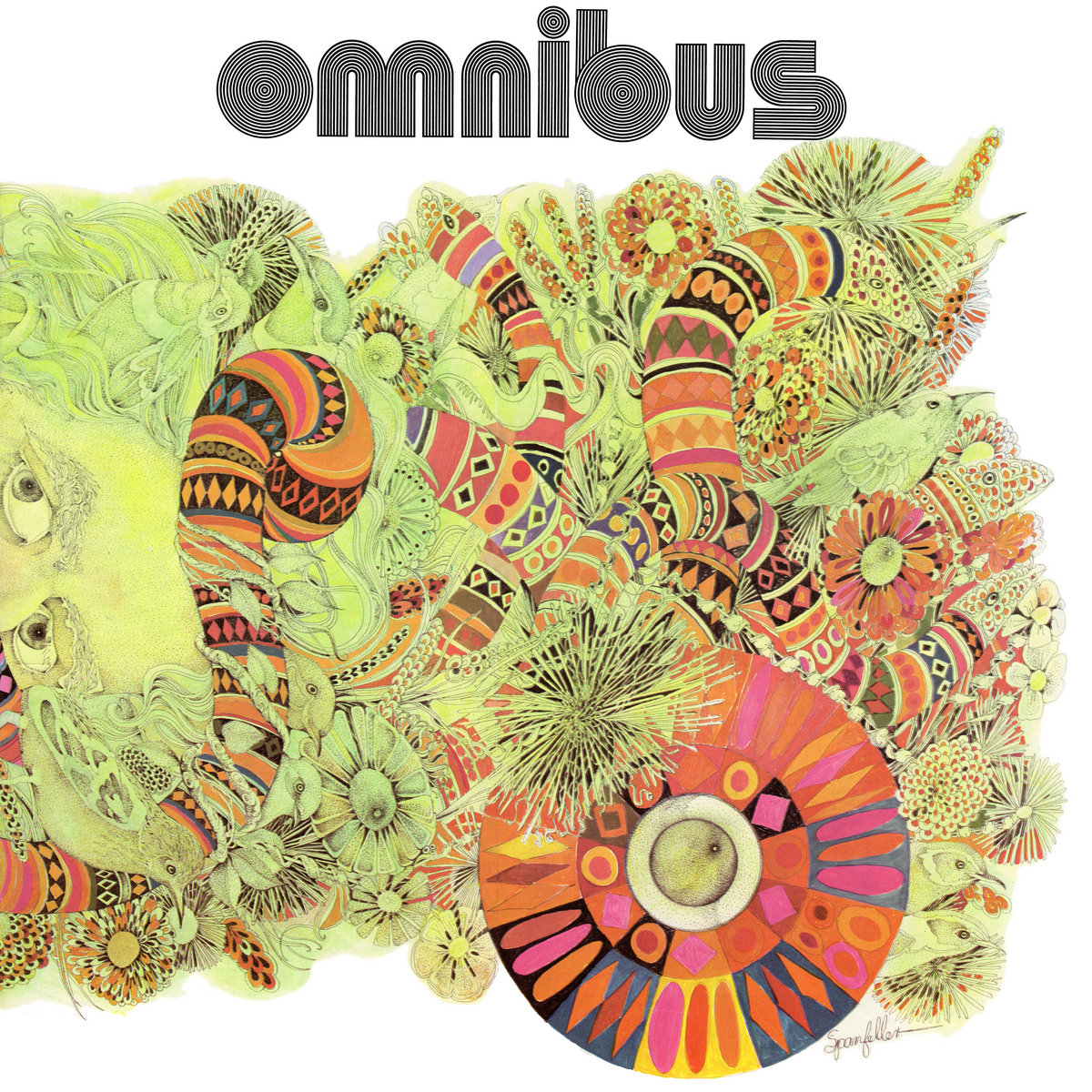 As an introduction, here is a piece I wrote last year for inclusion in the CD reissue's liner notes:
Omnibus
was formed around 1967 in New Milford, New Jersey by Wegrzyn, Polt, Raimondi, Marcinczak, and Garino. The group were contemporaries to local bands such as Leviathan featuring Gary Browne and The Forerunners featuring Rob Lang and Bob Hussey. Garino, Wegrzyn, Polt, and Cardinali all attended New Milford High School while Polt and Raimondi were close neighbors and grew up together, becoming close friends. Although Wegrzyn had graduated high school by the time that the group was formed, his signature Morrison-esque voice became one of the band's most recognizable trademarks. The name Omnibus was chosen after browsing a dictionary and finding that the term was defined as "a vehicle for public transportation," immediately solidifying a destination in 1960s psychedelia.
In 1968, the band (then featuring Garino on drums) recorded a series of demos at Select Sound Studios in New York City. After playing some local venues, Omnibus was picked up in 1969 by brothers Steve and Eric Nathanson and signed a record deal for United Artists Records. The Nathanson brothers, who would produce the sole Omnibus LP along with other groups such as Boffalongo, had their claim-to-fame from being friends with Jay & The Americans, who were on the same label. After recording the album essentially "live in the studio," Omnibus was called in the following year to rerecord "The Man Song" and "It's All In Your Heart," which would become the album's only single (UA 50631). By this time Garino had been replaced by Don Cardinali on drums, and although all other album tracks still featured Garino, the album's photoshoot that year only included Cardinali. These pictures, which appeared on the gatefold sleeve, would be the only known images to survive of the band.
Omnibus' sound was heavily influenced by the Doors, as well as other psychedelic acts such as the Animals, Steppenwolf, Grateful Dead, the Beatles, the Rolling Stones, Jefferson Airplane, Tim Hardin, and Frank Zappa with the Mothers of Invention. Polt and Raimondi jointly wrote all of Omnibus' music while Wegrzyn wrote lyrics to the compositions. Wegrzyn's songwriting is heavily based in the social and political climate in the late 1960s, using ambiguous turns of phrase to inspire contemplation on both reality as well as imaginary metaphoric constructs. "The Man Song," arguably the group's most popular song, was written after Raimondi's house in New Milford was raided for marijuana. At the time, the members of Omnibus had all grown long hair and were facing constant harassment from local authorities. Wegrzyn uses snide political realism ("gambling, stealing, prostitution/still not solved by their solutions/yet they keep watching all around us") to question the moral direction and priorities of "the man," a question which has unfortunately held up well since its initial publication. The shootings at Kent State University, which happened during the same year as the album release, lends to the urgency and frustration with which the band plays on the record, and is continually echoed by political riots for equality that linger across the United States today.
Other songs, like "Harmony," ponder the social implications of such movements. "Harmony" is about the hope of communal unity; much like today, the ruling elites of the 1960s did not always do what the people wanted. The war in Vietnam was heavily protested, and the draft disrupted the lives of all the young men who were coming of age at the time. This song is also exemplary of Omnibus' musical complexity, going from 3/4 time to 4/4 and back, while most popular rock music of the time was in 4/4 or 12/8 shuffle. One of the group's best recordings, titled on the demo acetate simply as "Farm," was rejected by United Artists for being "too dirty"; however, if it had been released as recorded in 1968, it almost certainly would have been considered a garage rock masterpiece today, oscillating between Polt's acid-drenched guitar and Raimondi's mesmerizing organ while Wegrzyn sings lyrical stanza after stanza referencing topics such as incest and bestiality, topics which certainly were too risqué for the 1960s popular scene.
However, instead of reaching the fame and critical acclaim that they deserved, poor management decisions coupled with disputes within the band caused the group to come to a quick death after their album release. Wegrzyn would release a self-titled solo album under the pseudonym Wenchin on the Buddah label in 1975 (BDS 5642), and Polt would lead numerous groups such as the New Milford All-Star Band featuring a young Thom Panunzio, the Stars Rock 'N' Roll Show, and Precious Metal, all of which never released any commercial recordings. The original Omnibus album has since become highly sought by collectors of late-1960s psychedelia, although very little was known of the band, as not even the band member's full names were printed on the cover. This anonymity has contributed to the group's now-legendary status in psychedelia, and rediscovery by artists within the neo-psychedelic movement has led to many emerging fans who never had the opportunity to hear the limited pressings available at the end of the first psychedelic era.
Working on this set has been a long process that's consumed a reasonable portion of time over the last year or so. There have been tons of LPs, cassettes, acetates, reels, pictures, etc to compare and restore. Admittedly, towards the end I just threw in the towel — the biggest acetate featuring many of the demos was found in fair condition with skips, heavy groove wear and uncountable scratches. However, the other demos that Jay sent me were pristine, and after restoration I actually prefer many of the demo mixes over the album versions. Two tracks in particular, "Good Mornin' Day" and "The Farm", which happened to never make it on the commercially-released album, are mindbogglingly good — "The Farm" references bestiality, incest, and is as proto-punk as a band could be in 1968. I know that if it had been released as recorded it would be considered a garage rock masterpiece and classic of the genre today. Instead it was rejected flat from United Artists Records. And "Good Mornin' Day" sounds like Jerry Garino (drums) snorted a fat line of coke before sitting down in the recording session. The fact that these recordings never got released in '68, and that the rest of the album got delayed until after the psychedelic wave had peaked, is really quite a tragedy.
The only records that were not able to be found were the ones that were used for "Jerry Garino's Demo CD" (included in the Raw Audio Rips folder here). It's unfortunate that this is the case, as the CD appears to be sourced from a highly limited MP3 and has some digital clicks from damage to the foil layer. For this reason, these versions are not included in the "cleaned-up" files.
As I said, there's a lot here. There's scans of a couple album covers, all the artwork and labels, tons of pictures, an original concert poster, a demo CD booklet and LP lyric sheet I made, a full PDF write-up from Jay on "The Omnibus Story" plus a little piece on how I discovered them, and a few CDs worth of music. There's so much here that I've had trouble coming up with a way to best sort it all, so the best way to explore is just to dig in and enjoy!
Bob Wegrzyn – Vocals
Jerry Garino – Drums
Al Raimondi – Keyboards
Bobby Marcinczak – Bass
Jay Polt – Guitar
All music by Jay Polt and Al Raimondi.
All lyrics by Bob Wegrzyn.
Disc 1 – LP (Stereo)
A1) "The Man Song" – 3:27
A2) "It's All In Your Heart" – 6:03
A3) "Shake It Off" – 3:59
A4) "Understand" – 3:52
A5) "Above Me" – 2:45
A6) "Den Of Sin" – 2:13
B1) "Boogus Black & Blues" – 5:10
B2) "Spring" – 3:01
B3) "Winding Thru Your Heart" – 2:29
B4) "Harmony" – 2:32
B5) "Big Daddy Slave" – 2:38
B6) "Tired Of Screamin'" – 2:56
Disc 2 – LP (Mono)
C1) "Good Morning Day" – 2:41
C2) "The Farm" – 3:08
C3) "Den Of Sin" [Demo] – 2:11
C4) "Spring" [Demo] – 3:07
C5) "Big Daddy Slave" [Demo] – 2:38
C6) "Love Song No. 1" – 2:54
C7) "Embers (Love Song No. 2)" – 2:22
D1) "Beauty" – 3:42
D2) "Above Me" [Demo] – 2:40
D3) "Them" – 2:38
D4) "Open Your Eyes" – 3:41
D5) "Harmony" [Demo] – 2:32
D6) "Breezin' Bye" – 3:40
Disc 3 – 45 RPM 7" single (Mono)
E1) "The Farm" [Original Demo Version] – 3:11
F1) "Love Song No. 2" [Original Demo Version] – 2:19
Some additional tracks in this post:
– An interview with Jay Polt
– Disco remix of "Shake It Off" by Omnibus II (70's reunion of Jay + Bob)
– "Disco Or Die" basic tracks also by Omnibus II
– Modern remix of "Shake It Off" by Jay
Lineage
:
– Audio-Technica AT150MLx Dual Moving-Magnet Cartridge
– Audio-Technica AT-LP1240-USB Direct Drive Professional Turntable (internal stock preamp/ADC removed)
– TCC TC-754 RIAA Phono Preamp (new regulated power supply, added LM7812 regulator)
– Focusrite Scarlett 6i6 MkII (96kHz / 24bit)
– Adobe Audition CC 2018 (recording)
– iZotope RX 6 Audio Editor (manual declicking, remove rumble, additional adjustments)
– Audacity 2.2.2 (fades between tracks, split tracks)
– Foobar2000 v1.3.17 (tagging, dynamic range analysis)
Google Drive
:
https://drive.google.com/open?id=0B2HCgdPZLIqXU3Y3S3p6VmJqa2c
Enjoy! :)